Dulcie May Moreno & Stephen Bridgland @ The Jazz Cafe – October 8th
Dulcie May Moreno (vocals); Stephen Bridgland (guitar) 
(Review by Russell)
We've heard her sing at jam sessions, a couple of Jazz Co-op gigs too. Today she made the long trip north from her Garden of England base to play an afternoon duo engagement on the first floor Jazz Cafe Mezzanine in Newcastle Arts Centre. She's from these parts, don't you know? Newcastle born, long-since resident down south, Dulcie May Moreno is her name.
Those who had heard Dulcie sing were of the opinion she was good, this Jazz Cafe gig would more than reaffirm that view.  Two sets, largely comprising GASbook numbers with a couple of modern jazz standards for good measure, our ex-pat Geordie and guitarist Stephen Bridgland held the audience spellbound.
From an opening Lullaby of Birdland through to a closing Love Me or Leave Me, Moreno and Bridgland gave a masterclass in the art of intimate jazz performance. You know it's a good gig when you can hear a pin drop – from beginning to end there wasn't a sound, other than the frequent sound of applause. Dulcie revealed she had written lyrics to Wayne Shorter's Footprints and Oliver Nelson's Stolen Moments – so, we had in our midst a fantastic vocalist and an accomplished lyricist!
To Moreno's left sat Bridgland with his Epiphone guitar. Tyneside boasts many fine guitarists, they could do worse than check out Mr B. Think Joe Pass, Martin Taylor and the like and you'll begin to get an idea where he's coming from. Several fine solos, not least on Almost Like Being in Love and a swinging Get Out of Town, marked out Bridgland as a genuine A-lister and not a plectrum in sight!
Dulcie May Moreno likes Julie London and Nina Simone to name but two, she likes a blues, a ballad and it's all done with exquisite phrasing and a real sense of time. The word is Ms Moreno will be back in town in the not too distant future. Do yourself a favour – make sure you're there!       
 Set list: Lullaby of Birdland, Honeysuckle Rose, Is You Is or Is You Ain't My Baby?, Since I Fell for You, Footprints, You and the Night and the Music, Autumn Leaves, Almost Like Being in Love, Let the Good Times Roll, Everybody Knows, Peel Me a Grape, Stolen Moments, I Fall in Love Too Easily, Get Out of Town, Pennies from Heaven, Do I Move You?, Baltimore Oriole, Love Me or Leave Me.  
Russell 
---
"A Pinnacle In UK Jazz Singing" – Lance – Bebop Spoken Here.
I missed this super songstress' last concert in Newcastle but remembered her performance at a Black Swan jam session so that even though there was the intriguing prospect of Alan Barnes with Sue Ferris and the Paul Edis Trio up the road my decision was made and, despite the vagaries of our so-called rapid transport system I made it to the Jazz Coop's upper room just in time for Comes Love.
The voice, every bit as good as I expected and Bridgland's guitar solo equally magical. No Moon at All, Honeysuckle Rose and Taking a Chance on Love followed. The voice, pitch perfect, the phrasing impeccable, the band with her every step of the way.
It couldn't get any better than this – or could it?
Up stepped Steve Summers – now a proud grandfather and, when it comes to sax playing, a grandmaster – adding a Coltrane feel to Stolen Moments, Steely Dan's Home at Last, Moanin' and Chains (?).
Intermission. CDs being sold, A good crowd including Alice Grace pictured with Dulcie – singing-wise two of the very best.
The second set opened with Cole Porter's 'Get Out of Town' although nobody did – who would? would you? Summers switched to soprano sax for the gender reversed Nature Girl. A raunchy Nina Simone number, 'Do I Move You?', then 'God Bless the Child' – was this a request from the new grandfather? the blistering sop sax solo suggests it may have been!
'Hum Drum Blues' an earthy down-home swinger it could almost have taken us back to the 1950s – if they'd had ipads in those days. Powerhouse drumming from Walker and a touch of humour from Grainger.
'Love Me or Leave Me' done fashionably uptempo before it was time for to 'Let the Good Times Roll and roll they did.'
The Jazz Coop's Moocher Minnie thanked the band who returned the compliment with a spirited version of 'Minnie the Moocher.'
It was one of the best Globe gigs in a long long time and, if you missed it then all is not lost there are three options. On August 9, Dulcie, Grainger, Walker and Bridgland are at The Vault in Hexham, The Dulcie May Quintet have a CD available and, hot off the press, there is also a duo/ Trio EP.
I recommend all three but, if you can't make it to Hexham then the albums are essential. Most of the numbers were performed at last night's concert and represent a pinnacle in UK jazz singing.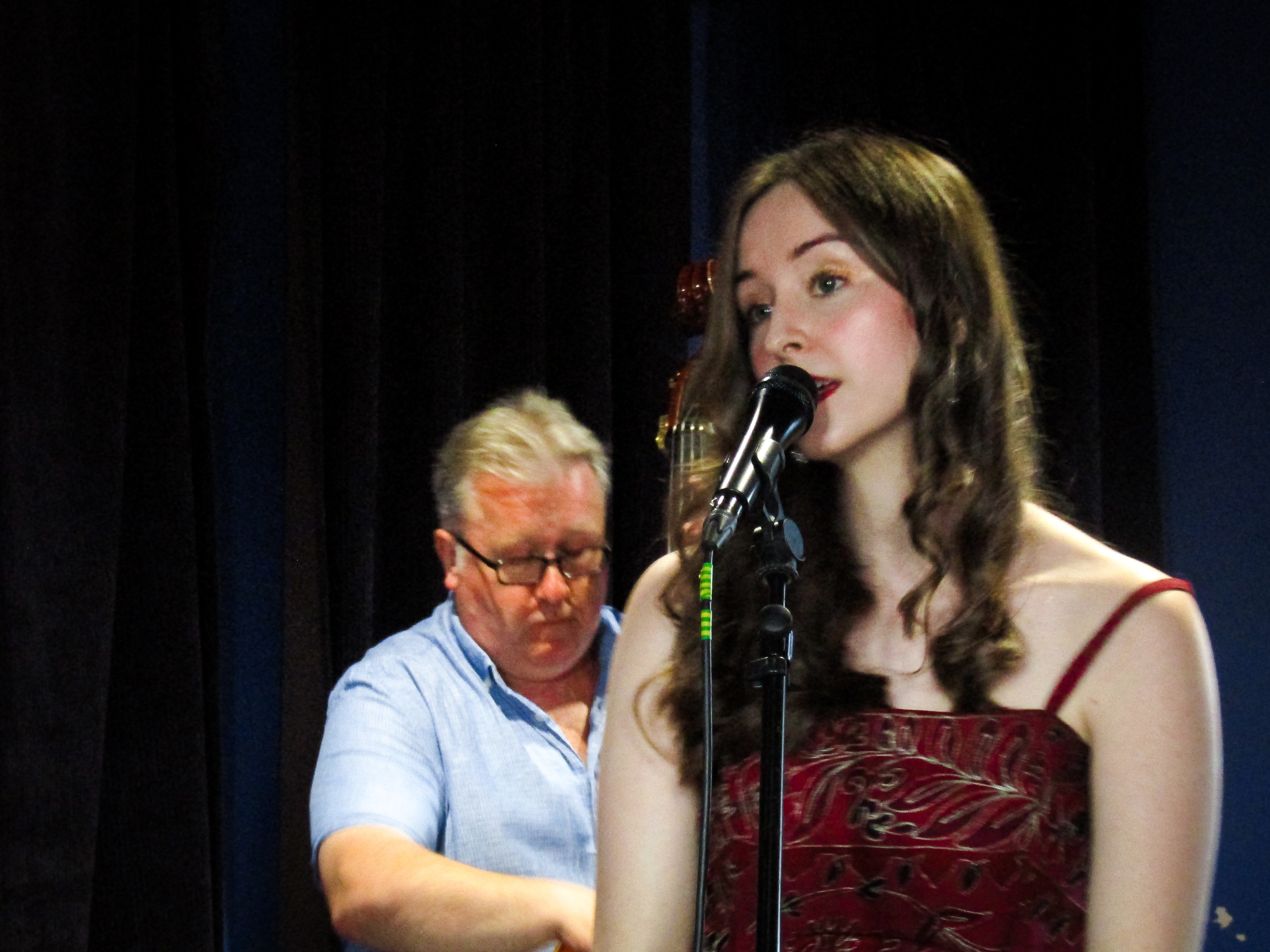 ---
"This is a young lady with a BIG future."
Kevin Dorrian – Whighams Jazz Club – Edinburgh
What a delight to have Dulcie May Moreno perform last night. This is a young lady with a BIG future. Some great choices of tunes and fabulous arrangements by guitarist Steve Bridgland who was simply outstanding, as was Steve Summers on soprano and tenor – all all held together wonderfully by Martin Waugh and Jimmy Taylor in the rhythmic 'engine room'!
---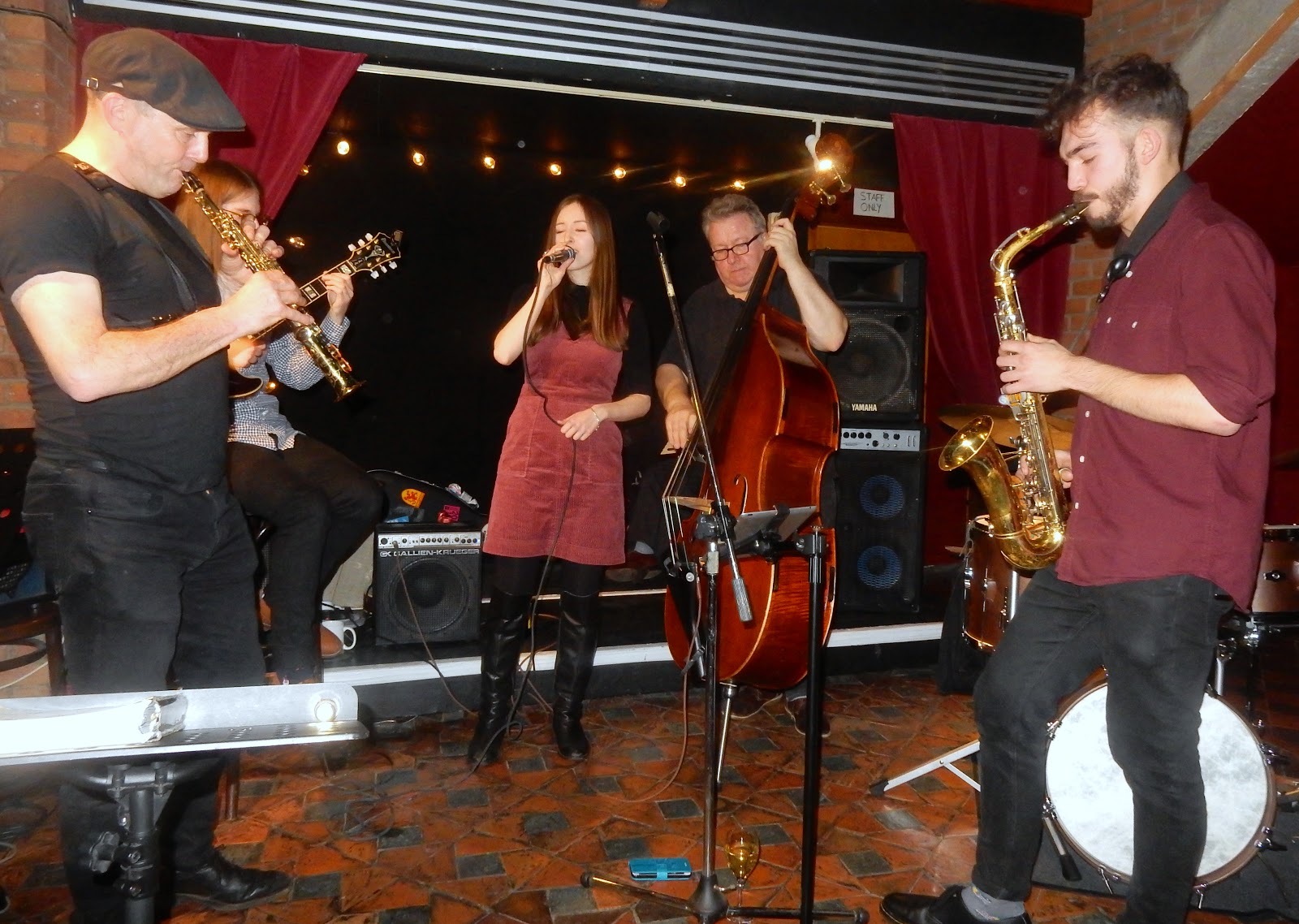 "The Earth moved when Dulcie May Moreno – all the way from Kent – sang Louis Jordan's Trouble Then Satisfaction and Pennies From Heaven.
…then Dulcie May returned for Moanin' …
she may have been but we weren't – no sir!
This lady should be employed by the Kent Tourist Board.
A class act indeed!"
-Lance – Bebop Spoken Here
Another lovely review from our first trip up north in 2017 for a trio gig at the Globe;
http://lance-bebopspokenhere.blogspot.com/2017/05/dulcie-may-moreno-globe-may-21.html?m=1